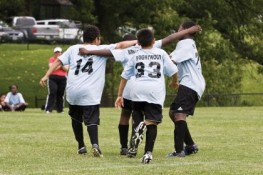 3ST recently had a chance to speak with Jake Lloyd, DC SCORES Communications Manager, to learn more about the tips and tools he uses to keep this diverse audience of children, parents, stakeholders, schools, coaches engaged with his organization.
Managing communications in a program like this means, simultaneously, communicating information about the program to a number of different audiences –each with specific needs.  It also means keeping local business and individual donors updated on needs and accomplishments. Additionally, Jake helps Senior Director of Development and Communications, Daniel Meloy, with small online fundraising projects and the annual DC SCORES Cup.
He is keenly aware of the role that social media play and decides which channel to utilize, and how, based on the information he's trying to convey and audience he's trying to reach (see tips, below).  And it's really impressive (and helpful to us!) that each day, Jake dedicates a block of his time to catch up on the trends in social media.
With the most recent economic downturn, it became apparent that the contributions from businesses are not something that a nonprofit can always count on. And with an annual budget of $2 Million, that's a sizable nut to crack.  So, like many other nonprofit organizations, it became imperative to find a way to diversify funding. In this case, they leveraged the social networks of individual donor via crowdfunding and peer to peer fundraising.
A Page from Jake's Playbook
Facebook:  Ideal for fun, "fluffy" or feel good messaging. This is the best outlet to reach coaches and parents, so keep the messaging in line with that audience. Pictures are a necessity: research shows that posts with pictures get three times theengagement than merely text.  Here are some other really useful Facebook posting tips from Social Media Examiner
Twitter: According to Jake, this channel tends to be best for engaging partners, as it allows for maintaining a presence within an online community.  For example, perhaps they connected through a grant application at first.  Twitter allows an easy way to keep  that partner in the loop on how DC SCORES is putting that grant to good use.  It's also perfect for saying  "Thanks for coming out to the game".  There is also a rule that anytime the staff interacts with a partner or funder it's tweeted out.  By doing this, it acknowledges, thanks, and brings that funder to more of a stakeholder level.
But with so many different themed messages and constituents, it can get hairy.  So, Jake is a fan of TweetDeck which is a free app which helps organize  your Twitter account, making it a much more efficient place.  He loves how he can customize the content of the tweet for a specific segment of their 2300 followers.  With this tool he can create lists about topics and he can create a list of top followers (those that interact with DC SCORES frequently) So, if they are running an online campaign, he can send direct messages to get them involved.
Linkedin: This channel tends to keep a more professional tone and appearance.  It's best for reaching a demographic of older stakeholders from corporations or on boards.  You can look at Linkedin as the formal presentation for your nonprofit and check out this advice on how to make it look its best.
Instagram: Even more than Facebook, this channel is completely reliant on pictures. It's the newest frontier for DC SCORES, as they just joined in March after being asked by kids in their program "why aren't you on Instagram?"
So it is the most effective channel for engaging the kids in the program.  Think of it as Facebook for the younger set. As such, it's a great tool for cultivating a culture of DC SCORES that can span the years from childhood through adulthood.  The children who are active in the program today can become the volunteers and stakeholders of tomorrow.  Here's some help on how to get started using Instagram for your nonprofit.
An unexpected benefit? With continuing engagement, some children who participated in the program at school age return later in life to volunteer.  And after that, who knows how they'll play a future role in DC SCORES.
Do you have an example of incredible engagement that you'd like to share with us?  If so, email editorial@thirdsectortoday.com with a summary.
About: DC SCORES  DC SCORES uses a team-based approach providing youth with the arts, athletics, and academics that will engage, enrich, and improve their lives. DC SCORES builds teams through after school programs for 1,500 low-income DC youth at 47 schools by instilling self-expression, physical fitness, and a sense of community.
You can follow Jake Lloyd on Twitter @jakelam2116