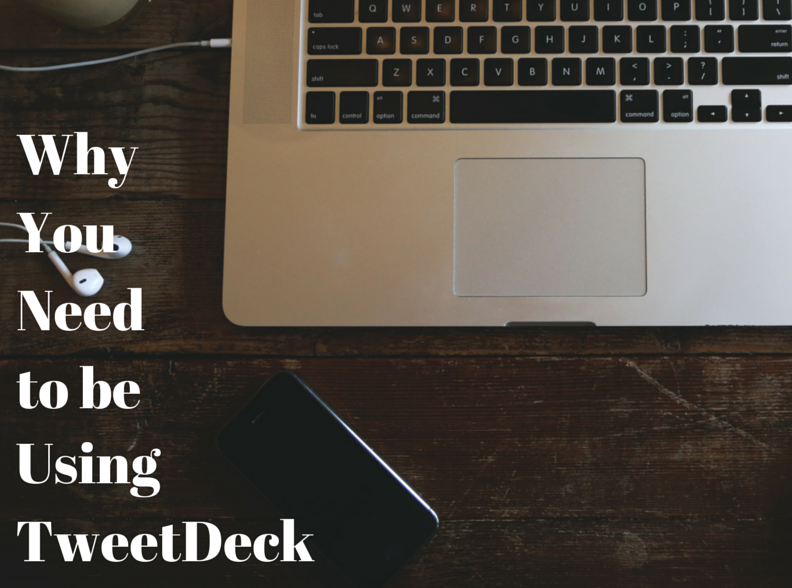 I've taken on a few more social media clients since the last time we talked, and after I had a slight meltdown over having to sign in and out of accounts, a friend of mine nearly shook me and exclaimed, "WHY AREN'T YOU USING TWEETDECK?!?"
My answer? "*blank stare* I have absolutely no idea." You guys, it's an absolute game changer for those of us who manage multiple accounts. I'm so late to the game.
TweetDeck is a social media dashboard application (however, it works just fine in its browser version) that helps you manage your Twitter accounts. It interfaces with Twitter to allow users to send, schedule, and receive tweets, view profiles, follow hashtags, and organize and build custom timelines.  Interested? Here's everything you need to know about getting started. It's free, so there's no major commitment if you just want to create the account to check it out.
So now what? What can you do that's going to be great for your business?
Follow relevant hashtags. Whether you're at an event, or you're just curious if anyone is using your organization's hashtag besides you, you can create a column for it. You can also create columns for variations of those hashtags.
Follow specific accounts. Whether it's an opposing organization, a similar organization, a company you want to form a partnership with, or a political leader, TweetDeck makes it easy for you to keep an eye on those accounts that are meaningful to you. Or, if there are a lot of them on a particular topic, create a list. This puts them all in one place and you can follow along there.
Get a live view of your notifications. If push notifications annoy you, this is a great alternative. Your notifications become a live feed and you can see as soon as someone favorites, retweets, follows, or sends you a direct message.
Search for mentions of your organization's name. If someone hasn't tagged your handle in a tweet, you may not know they're talking about you…but you should. This is so important when it comes to brand management and public relations.
Give other people free reign to use your account. Obviously you shouldn't hand off tweeting privileges to anyone you wouldn't trust. Your brand's dignity rests in the hands of whomever you give its power to. But if you have multiple social media managers, you can add them as users (refer to the article above for how-to).
Loving TweetDeck? Hating TweetDeck? Tell us what you think in the comments below!
Looking form more social media advice? Check out this podcast on how to leverage your "Super Users."
About the Author: A professional copywriter working with Macy's Store Communications team, Kadi continues to fulfill her passion for communication by serving as the resident Millennial blogger with Third Sector Today and Top Nonprofits. She also serves on the advisory board forGlamourGals and is the content manager for BLEEP Magazine. She's a recent transfer to NYC, but calls Ohio home. She graduated with a BS in Magazine Journalism from the E.W. Scripps School of Journalism at Ohio University and spent five years in Ohio's capital city of Columbus, working as a professional communicator and managing a trade magazine for the insurance industry for three years and working with The Harmony Project as a member and as the social media coordinator. She is a triathlete, loves golf and tennis, and coaches swimming. You can follow her on Twitter @KadiMcDonaldOU