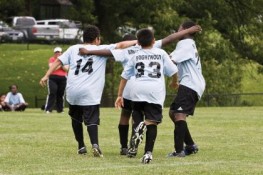 Shout Out out for best Blog Post of the Day….
…goes to DC SCORES.  The Burrville Eagles Part 1: A family of DC SCORES participants is a well-written piece that weaves together the student, adult and community involvement integral in the success of DC SCORES' program.
Even if I had never heard of DC SCORES before, I would immediately know, from reading this post, what it does, how, where and why.
And-immediately-I could also see how very important the program is to the students, adults and community.  Bravo!
Here are the trademarks of the best blog posts:
Well written
Easy to read
Tells a Story
Includes Video
Includes Share Buttons
Want to learn more? Here are some Social Media for Nonprofit Tips from  Jake Lloyd of DC SCORES