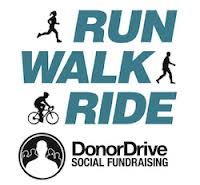 DonorDrive Social Fundraising Software Opens Scholarship Application for Run Walk Ride Conference
DonorDrive Social Fundraising software has opened registration for the DonorDrive Run Walk Ride Fundraising Conference Scholarship to help staff from a nonprofit attend the premier conference of its kind. http://bit.ly/17ZteEx
DonorDrive Social Fundraising software awards a scholarship to a nonprofit staffer to attend the Run Walk Ride Fundraising Conference in Atlanta each year.
Scholarship entry is only open through November 20, 2013 so entrants should apply now.
The recipient is selected based on a 100-word essay on how they or their organization would benefit from attending North America's premier conference for event fundraising.
The scholarship includes an attendance pass to the Run Walk Ride Fundraising Conference in Atlanta February 25-26 in 2014, as well as hotel and travel costs.
Applications are open to organizations that have never attended Run Walk Ride before.
Paul Ghiz, Managing Partner of Global Cloud, makers of DonorDrive notes the importance of sending nonprofit staff to the conference:
We sponsor the DonorDrive Run Walk Ride Fundraising Conference Scholarship annually to give a deserving nonprofit the chance to attend and gain expertise from leaders and innovators in fundraising today. They take these learnings back to their organization and translate them into more dollars for their cause. It's fulfilling to hear about the good they're doing as a result.
Past recipients found that attending was a huge asset to their organization. Marta Hodson of the Harry Chapin Food Bank received the award in 2012 and called the conference, "One of the best I've ever attended. There was so much positive energy there. It was a great way to rekindle my inner fire for our walk event." Jen Bates of Farm Sanctuary, the 2011 recipient, found the knowledge shared at Run Walk Ride to be valuable: "The most important thing I learned was the need to personalize communication with participants: tell inspirational stories, cater messages to participants' various interests, etc."
Applications for the scholarship are accepted through 11/20/13 with the recipient announced on 12/16/2013. With the short deadline, entrants should apply immediately.
###
Run Walk Ride is the North America's largest and longest-running conference dedicated exclusively to fundraising through 'thon experiential events. Find out more at RunWalkRide.com.
DonorDrive® is truly effective software dedicated to event-based social fundraising for medium and large nonprofits. Children's Miracle Network Hospitals, Doctors Without Borders, World Vision, JDRF Canada and Team ASPCA are a few of the causes that use DonorDrive Social Fundraising software for their runs, walks, rides and virtual campaigns to engage constituents and increase donations. Every year, people raise millions for great causes through DonorDrive. Learn more at DonorDrive.com.