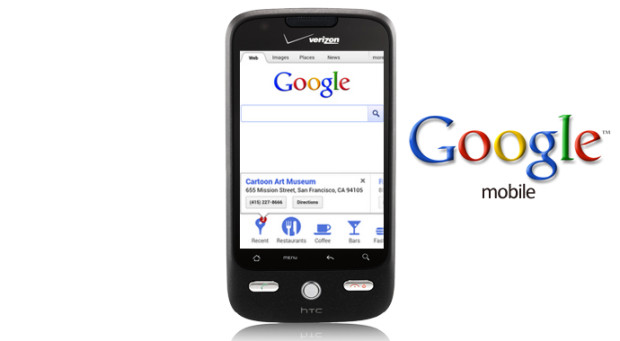 That Google is a behemoth company and basically "owns" the internet is nothing new to any of us on Earth. When Google changes something they do to suit their business needs or to prepare for the implementation of a new strategy everyone-individual, organization or business-needs to take note. It follows then that nonprofits need to take note of Google recently re-tooling their approach to search engine optimization to deal with, and prepare for our mobile-dominated world.
First, a couple eye-popping stats from the recent Hubspot presentation, 50 Amazing Facts About Mobile 
25% of Americans use mobile devices only to access the internet.
90% of mobile searches lead to action within one hour of the search.
Considering the newness of the mobile internet these stats should give pause to every nonprofit out there. This is blistering growth in search on mobile devices and in taking action on mobile devices. Chances are very high that this holiday season millions of people wanting to make year-end gifts will be searching via Google for causes to which they can make those gifts. The question Google is now forcing your nonprofit to answer is: "What will they see on their mobile phone when they find you?"
Google has taken note of this growth and its staggering pace and earlier this year they re-tooled their SEO algorithm (the way they rank your site in search results) so that it favors having a mobile-optimized version of your PC site for mobile searchers and visitors.
This is from a June 18, 2013 article in Mobile Marketer about the change and its impacts.
"The future of search is in mobile experiences and interactions," said Antonio Esposito, global SEO specialist at iProspect. "It is the strongest growing market with the highest future potential and it has yet to mature.
"Since Google provides so much traffic to sites they have found themselves in a position to dictate site design best practices," he said.
"Google is taking this seriously and they are enforcing best practices that not only help their engines crawl your site, but make sure that search users arrive on useful and relevant content."
The upshot of this for nonprofits competing for attention, engagement and donations is that without a mobile-optimized site alongside your PC site Google will not penalize you per se, but the intent is clear-they will reduce your relevancy in their search results. Clearly this is not a good thing for a nonprofit of any size.
Google now looks for slow load times of PC sites on mobile phones.
Google determines if your PC site content is relevant for a mobile device.
Google looks for broken links and "page not found" errors and broken redirects.
Based on Google's direction for their SEO, It should be readily apparent that mobile is no longer a wait-and-see option for nonprofits. You could be spending a truckload of cash on redoing your PC site when all along having a mobile -optimized version of your PC site could be way more important in reaching Google searchers.
There is good news though.  Any nonprofit can have a mobile-optimized version of their PC site in under an hour by using some of the open platforms that are available. There's really no glory to owning your website code any more when there are platforms that are easy to use to create a mobile site and offer many great features intended to make it easy for your supporters to engage and give. They also get you going with a mobile-optimized site for a mere fraction of what it would cost to have a developer create one for you.
Using one of these platforms means you'll be well-positioned for people searching for you on Google via their mobile phone and you'll be providing a fast-to-load and easy-to-navigate experience when you are found via a Google search on a mobile phone. Even better is when they do find you and you've made it easy to give, you'll be increasing your odds for a gift and maybe a brand new donor.
Google's signaled the way with their SEO changes focusing on mobile experiences. All nonprofits need to take note and make today the day you get a mobile-optimized.
Dale Knoop is an industry-recognized pioneer in the mobile data services industry. In 2003, Dale launched MobiTV and in less than one year built it into the 10th largest cable operator in the US. In 2005 Dale won an Emmy for his work as General Manager for Sprint TV, the first carrier-branded mobile live TV service. Dale holds several patents involving mobile data services. RAZ Mobile was conceived as an area of opportunity during his time leading a mobile-centric start-up Dale exited in 2009. Dale holds a degree in Business Administration from the University of Kansas. He can be reached at [email protected] or 913.226.1144