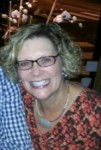 Recently, Third Sector Today had the pleasure of meeting up with Jane Weaver, Interim Executive Director of Alzheimer's Association of Western Carolina. Prior to joining Alzheimer's, Jane also held executive posts at National Kidney Foundation and The Leukemia & Lymphoma Society.
The eldest of seven siblings, a mother, a wife, professional experience in hospitality and nonprofit—yes, she admits, she is a nurturer. And knowing this about herself has helped her navigate her professional life as well.
Who are your professional influences?
I really like Penelope Burk. I suggest everyone read her book, Donor Centered Fundraising. This book influences many of my strategies. Everything from how I design letters to how I approach face to face donor
meetings. I find so much of the book can be applicable to organizations of all sizes. I also like Ellen Donohue; she offers some great webinars. And I've included Patrick Lencioni's Five Dysfunctions of a
Team as required reading.
What tips do you have for a donor meeting?
* Don't feel it's necessary to make the ask on the first visit. Use the time to find out about the people you're meeting with instead.
* Don't feel you have to even bring a proposal. You can always email something like that, as follow up.
* Do bring all information you can on your organization's services, staff and mission.
You have experience in sales and marketing. How is that useful in your role in nonprofit?
I think sales strategies and skills are useful in nonprofit. Sales is about building relationships that will eventually "close" with donations. In the nonprofit world you are "selling" your organization on its merits and services- not "selling" in the same way you would a hotel. It's not like selling a Doubletree versus the Marriott down the street. You wouldn't say "Alzheimer's is a better cause than cancer" for example. Instead, it's important to find out about the donor and his or her connection to the cause and build on that relationship. Your "selling" is really providing the donor with a clear understanding of your organization's mission and merits and how they can be a part of it. You're goal is to find that connection between your cause and the donor's desires.
Your current role is an interim position; does that require a different approach than coming in as the permanent Executive Director? How so?
My approach was very upfront with the staff. When I got there I announced that I'll be implementing certain procedures for checks and balances. The policies that I'm putting in place are based on strategies I used
successfully in the past. So, I know that they work-But the staff knows it's up to them to support those policies and "sell" them to the person who comes in permanently if they like the end result.
I also met with each one of the staff-individually. I said "OK, tell me what I need to know." Ultimately, people just want -and need -to be heard. They need to vent and know that if there is something they find
bothersome, we'll find a way to resolve it. So, if there's an issue, I acknowledge it and ask "What do you need to be successful and move forward?"
Then I like to follow up with an email recap, which includes the action we agreed to take. I find this useful for both of us, so we can go back and refer to it down the road. It helps ensure that the suggestions are being
followed up on properly and as promised.
What is your take on employee engagement?
I had an experience in the past where I found that the turnover rate of first timers was 50%! I later learned this was due to either 1. burnout or 2. a realization that they weren't going to hit their revenue goal. Unfortunately, since many organizations are so understaffed, this isn't really very unique. Since nonprofits are held to strict guidelines regarding their revenue vs administrative costs they tend to lose good talent in their attempt to reach their goals on such tight budgets.
Generally, people do not go into nonprofits expecting to become millionaires. A typical starting salary is around $28,000. Mostly, they come into the sector because they have a calling.
Do you have advice to help staff become successful?
Give young folks at your organization articles and information that will help them excel in their work. People are hungry to have info to share with their peers. They enjoy an outlet for open dialogue. Some organizations lack that culture; don't support an ability to talk. Staffers are sometimes made to feel that if they don't know something, they'll be judged, and that can inhibit the likelihood they'll ask questions.
How did you know that the nonprofit sector was for you?
Over the years I've taken Myers Briggs
and, Gallup's Clifton StrengthsFinder they all "Screamed" nonprofit. I was repeatedly identified as "nurturing". I'll never forget the time I saw a young woman carrying a baby and 8 helium balloons
struggling to get into her car in a parking lot. I just had to go over to her and explain that I'd been in her shoes once so please let me help. And, yes, maybe being the oldest of seven siblings also has something to do with my tendency for nurturing. Parenting has helped a lot, too. Especially, when dealing with my younger staffers.
Best advice to those contemplating a career in nonprofit?
Trust your gut; It will never steer you wrong.
Need more reassurance? Write out a list of pro's and con's. Sometimes the answer you're looking for is right in front of you. The exercise of putting pen to paper also keeps things from hiding and keeps you from rationalizing.
Jane hails from New Jersey, but has lived throughout the US. She left the for profit world to enter non-profit 15 years ago and"… has never looked back."