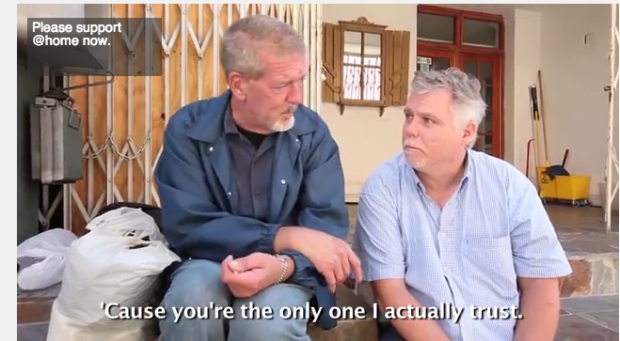 Walking along the street or in your car at a stop light, who hasn't encountered someone holding a cardboard sign: "Homeless. Please help. Thank you." We see the cardboard signs, but do we really see the people holding them?
One nonprofit, Invisible People.tv, is dedicated to changing the way we think about people experiencing homelessness through storytelling. The video blog project was founded by Mark Horvath in 2008. Horvath travels the country interviewing homeless individuals, collecting stories. He gives the homeless a face, but more importantly, a voice.
"The purpose of this vlog is to make the invisible visible. I hope these people and their stories connect with you and don't let go. I hope their conversations with me will start a conversation in your circle of friends," says Horvath.
Many conversations continue to be sparked by the project. The documentary @home follows Horvath on his journey and illustrates the powerful role social media can play making social change. He says "the number one thing about homelessness I want people to know is that we can solve it."
Philanthropy.com reports "Invisible People has gained support from corporate donors like the Ford Motor Company, PepsiCo, and Hanes, the clothing manufacturer. And Mr. Horvath has been teaching other charities how to communicate online better, helping them reach the public and raise more money for their missions."
Invisible People is a wonderful example of the change one person, let alone a nonprofit, can make with social media and storytelling.
Watch this trailer and let us know how it inspires you!