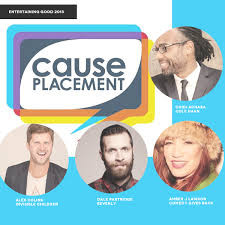 Cause Placement received a grant to subsidize registration for the 2013 Entertaining Good, October 10, New York City.  Now registration for the full day event is only $275 until September 27.  Click HERE to find out more and to register.
According to the group's press release, "Cause placement creates a harmony between entertainment and non-profits that people can resonate with .  By embedding cause-related content into entertainment platforms, we can help reach audiences to foster conversations and fuel greater charitable engagement, " said Jay Harren, VP of A&R and Artistic Development at Sony Music Entertainment's Descendant Records.
Thanks to the grant, the new, highly-subsidized registration will enable more nonprofits to participate in this "…day of informative case studies and intensive breakout sessions to fuel a high-energy day of learning."
Featured speakers include: Chidi Achara, VP of Creative Services at Cole Haan; Jed Bennet, Director of Marketing at Penguin Publishing; Lori Feldman, Senior VP of Brand Partnerships at Warner Brothers Records; Tony Hale, American actor noted for his roles in Arrested Development and Veep; Christian McGuigan, Director of Social Action Film Campaigns at Participant Media; and Jason Rzepka, Senior VP of Public Affairs at MTV. Also joining the conversation will be senior members and executives from prominent non-profits including The National Campaign, Malaria No More, Invisible Children, and Comedy Gives Back
I hope to see you there!