Nonprofits often ask me why mobile engagement and fundraising are important to nonprofits. Beyond data points like smartphone penetration in the US approaching 70% and that 91% of the time a person's phone is within arm's length, there are three data points that you may have missed.  And they're extremely important. They should motivate your nonprofit to pay serious attention to the need to go mobile today.
Number One
Back in June of 2013, Google, in their infinite wisdom to show more ads to us all, rolled out their "mobile-bot". What this "bot" does is crawl all over your primary domain URL looking to see how you treat mobile visitors. If you have a mobile-optimized site that is different from your PC site, they will leave your search rank alone. However, if you don't - and this is a biggie - they will DEMOTE YOUR SEARCH RANK.
With 9 out of 10 mobile searches leading to action within one hour of the search, no nonprofit should ever risk their search rank because of not having a mobile-optimized version of their website for mobile visitors to your primary domain URL.
If you were to deploy a mobile-optimized version of your primary domain URL, the benefits extend beyond not being demoted in search rank by Google. For example, another great benefit is instead of making mobile visitors pinch and swipe and wait for page after page of your PC site to load, you could offer them (on our platform at least) a great mobile experience that's quick to load and super easy to navigate.
You owe it to those people who take the time to search for you and visit you on their mobile phone to give them a great experience.
Number Two
Following in the same vein regarding the need to present your mobile visitors with an experience designed for mobile phones is the data point that today, right now, you may be missing many, many online donations because your PC donation pages are hard or nearly impossible to complete on a mobile phone.
In 2013, the agency, Open Fundraising, released a report stating that more than 50% of donors attempting to give via their mobile phones gave up because the PC pages they attempted to use are too hard to complete on a mobile phone.
So, without mobile optimization of your donation pages, as mobile traffic grows, the number of donations you'll miss will rise. And don't think these are just small dollar donations. We saw a $2000 mobile donation on our platform in the 2013 holiday season to one of our smallest, most resource-challenged nonprofits.
Number Three
This one is about mobile optimization as well, but it has ramifications outside a great mobile experience for engagement or fundraising. It has to do with time.
You see, a person that wants to give to you wants it to be something they can complete quickly and "in the moment". This is especially true on a mobile phone.
The 2012 Millennial Impact Report states:
"While 80% of those who have given on a smartphone had given via text, the comments and focus groups suggested that Millennials preferred not to donate via text to avoid charges on their phone bill and not have their donation limited to $10. They would prefer to use a mobile website, but restated it has to be easy for them to give in the moment."
The way to capture donations "in the moment" is to give donors the ability to have repeat donations completed in 20 seconds or less on any tablet, phone or PC.
To do this requires the highest level of information security. Complying with all the rules and regulations around storing credit card information is out of reach for all but the largest nonprofits. However, with platforms like ours, it is possible to offer your donors this level of service. This is what makes online stores like iTunes and Amazon, to name a couple, so popular. They offer fast, secure and simple repeat purchases.
It makes sense for your nonprofit to offer this as an option for donors: Because it makes repeat gifts happen in seconds. And that's a good thing when you think about maximizing the lifetime value of a donor and getting to that all-important repeat donation.
Bonus data point
Today, 1 in 4 people are mobile-only internet users. What will your nonprofit face when this becomes ratio increases to 1 in 3?
It is my hope in sharing these reasons of why mobile engagement and fundraising are so important that your nonprofit is able to make mobile a top priority today and thereby enjoy the benefits already being seen by your peers that have already gone mobile.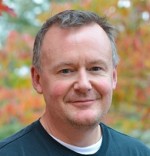 About the Author: Dale Knoop is part of a great team working to make RAZ Mobile a great platform for any cause engaged in fundraising. Any cause can create a content-rich mobile presence, share it through text messages, social media, QR codes, advertising and more and best of all-quickly and securely process donations from motivated supporters.
Dale holds multiple patents and applications for patent in the mobile space including advertising, content optimization, geo-targeting and negative QOS.