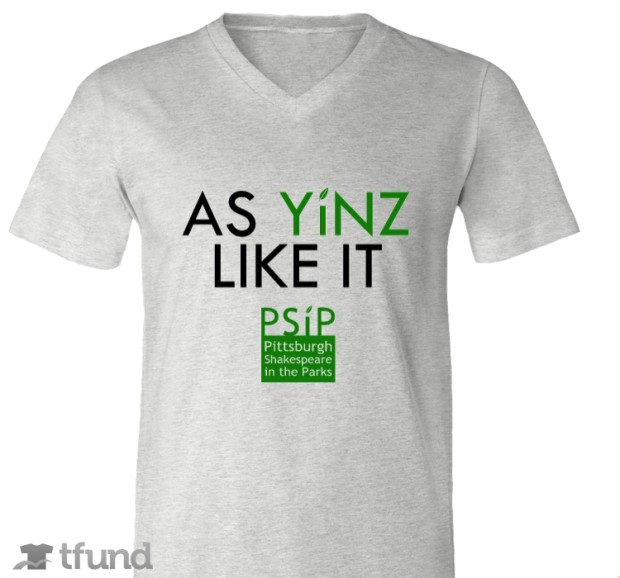 by Lynette Asson and Yvonne Hudson
Ok, now that we have your attention with our word play on a 1970s Michael Keaton and Pittsburgh movie title…
No, the t-shirt created by Pittsburgh Shakespeare in the Parks wasn't so much about rescuing the small outdoor troupe as boosting the company's earned income with a little innovative, low-maintenance "event" that has made a big difference. (Now in the interest of transparency, our company New Place Collaborations provides pro bono support to PSIP as the authors here are Pittsburgh-area natives and also board members. And passionate about Shakespeare…)
So, you may know, in Pittsburgh there's something known as "yinzer". We don't digress, really: this is part of our t-shirt tale.
A yinzer is usually:
A stereo-typical, sports-addicted, brew swilling, parking chair placing (click on link if you don't know about this "icon regional practice"), die-hard, Primanti's sandwich-eating city dweller, and someone who stalks the "cookie table" at weddings. Most yinzers are born and raised in a city that's moved from its smoky, steel city image to its reputation as an innovative, spunky, modern town that's drawing more new residents than ever. Oh, and yinzers tend not to move away!
An ex-pat of some other place that they now know is just not nearly as cool as Pittsburgh.
Anyone who visits Pittsburgh and loves the city. They may move here…
Some combination of all of the above as both life-long and new yinzers love the town!
And, it's also known most of the above buy and wear t-shirts of some kind.
Thing is, Yinzers also have track record in loving Shakespeare. More than 3,000 of them frequent PSIP's year-round programs. This 10-year-old company that performs exclusively outdoors in September, drawing loyal fans of all ages-and even their dogs. Many other Bard-scripted events by performance groups throughout the region consistently celebrate iambic pentameter, sonnets, and all things Shakespearean.
PSIP Admission is free, but, as we say in nonprofits, free is not really "free." The hat is passed in the park, mobile giving options will be featured this season, and events including a cozy fundraising dinner and auction help to fuel the coffers. For the 10th anniversary, however, it was clear some new fundraising and virality was needed to give donors who work hard to trek to four different parks while schlepping chairs, blankets, and picnic some new and engaging options.
Enter Jason Falls, self-described social media strategist, author speaker, thinker. When our company attended a recent VisitPittsburgh social media marketing workshop, and when we chatted with Jason at lunch, he shared a new opportunity that we thought would be just ticket for our small Shakespeare-focussed nonprofit for its upcoming production of the romantic comedy, As You Like It.
A few days later, the troupe appeared in the local Memorial Day parade. Surrounded by other participating "yinzers" (school bands, Boy Scouts, the Steel City Roller Girls), inspiration struck.
"As YINZ Like It."
The concept became a shirt which is still raising significant dollars through Pittsburgh Shakespeare in the Parks T-Fund page.
Basically, you can design a shirt and create your own program with a theme and a timeline that suits you and your fans. You set-up the shop page on line and establish your deadline.
Important points:
Find a "hook" that makes your shirt a "must-have," impulse item. The potential audience may be well-beyond your local stakeholders. Incorporate your branding, but make the design and message sing.
Consider the sizes available and your key audiences. Be sure you can get children's sizes if you need to reach kids. (Program details vary).
Have fun with the campaign to sell the shirt. Social media, clever e-blasts, and a sense of urgency for your deadline are all elements supporting sales.
Be reasonable on your quantity goal. Pittsburgh Shakespeare in the Parks set a first goal of just 50 but sold 102 shirts in its first campaign.
Get PR. PSIP's shirt featured in a story by an important local theater writer and that sent sales soaring.
To learn how to initiate a t-shirt or apparel crowdfunding project, explore just a few of the sources to sort options and campaign features:
T-fund
About the Authors: Lynette Asson and Yvonne Hudson, partners in New Place Collaborations, indeed collaborate on numerous community projects in addition to clients projects for Third Sector Today, the Bayer Center for Nonprofit Management, Opera Theater of Pittsburgh, Smart Divorce Institute, among others. Their knack for assisting grassroots and new projects has let to promotion for an annual concert for Martin Luther King Day, an event honoring Western Pennsylvania veterans, a parking garage rooftop fundraiser for the Greater Pittsburgh Arts Council, and running their touring play in a century-old prairie music hall. Their long run on projects Shakespearean include The Bard Walk and Sonnet-a-Thon events for the Bard's birthday, producing the solo show Mrs Shakespeare in more than 100 performances, and naming their company after the Shakespeares house, New Place. All's well that end's well, leading them to the concept for the Pittsburgh Shakespeare in the Parks' new t-shirt.