Inspired to help charities raise funds with fitness technology: A personal journey.
By John Eric Arterberry, Pledgerunner Founder
If you've ever lived in your car for a week or more, the reality of your situation hits home when you hear a hard knock on the car window soon after falling asleep in the cold of night. It's at that moment you realize that there's no bathroom down the hall or the convenience of a shower. No kitchen, TV, XBOX or otherwise. There wasn't even a smartphone to use some twenty-two plus years ago, which would have kept me from drowning my sorrows away each and every time that I could. When I was homeless, living out of my car was my only chance at survival and I felt pretty lucky, because the second time around, I didn't even have a car.
I spent four weeks homeless, until my closest friend offered me a couch to sleep on. This temporary opportunity eventually helped me gain some seasonal work, a room to rent, and needed stability. But life is unpredictable. Two years after being homeless, my car was totaled by someone who also lacked car insurance. I lost my room for rent because I no longer had the car to get to the job to make money to pay the landlord. And "yes", I found myself back on the streets.  I reached out to my friend once more, who thankfully provided help. I also reached out to Mission Solano, a local charity organization in my area and acquired some needed clothing. Soon after, I found my way to the community college, where I discovered my passion for technology. Now after several productive years in my career, I've turned my life around, I've embraced sobriety and I'm determined to give back.
Being homeless is something no one should experience. Unfortunately there are nearly 3.5 million people in need of shelter in America. Support from churches and nonprofits is often overwhelmed by the number of people in need, especially in larger communities. They need blankets, food, clothing and continuous funding just to help the few that they can. I also discovered that raising funds through activity based events, like marathons or bike-a-thons provide only half of the money raised just to organize, market and execute the event. With that knowledge, I had an idea of how I could give back.
I looked at how fitness apps and wearable devices were being used by individuals to quantify their personal achievements but the data was just sitting there, recorded for history. So why not use that activity to help someone in need?  I rolled up my sleeves and created  Pledgerunner, a platform for people to use their FitBit, Jawbone UP or Runkeeper app to do something good for themselves while doing good for others.  Pledgerunner is a way for people who believe in a cause, to support it by using the comfort of their own treadmill.
The bottom line is that I have a drive to do something for organizations, like Mission Solano, who need help raising much needed funds to care for those who have experienced  unfortunate setbacks. Hopefully, these organizations will be able to help someone like myself, who will eventually turn their lives around and do something worthwhile with their future - and on a personal level, I feel extremely grateful for the chance to do so.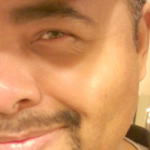 About the Author: John Arterberry is founder of Pledgerunner. See how to "Care. Actively" and follow them on Facebook or Twitter.  He and his wife were wonderful booth neighbors to Third Sector Today at NTEN's NTC '14, as well!