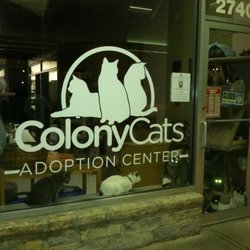 Fun Charity Event Ideas
Colony Cats is basking in its local business partnership greatness after last week's Mini Spa Night at Camelot Cellars, located in the heart of Columbus, Ohio's, Short North.
Each month for the last two years, Camelot Cellars has hosted a Mini Spa Night, bringing in vendors from the Columbus area to provide event attendees with spa services like nail care, facials, massages, and hair care, all the while benefiting a local nonprofit organization. This month: Colony Cats - an organization whose mission is to address cat (and dog) overpopulation in Central Ohio.
The concept is simple - attendees can enter the event for free, but each service is $15. Twenty-five percent of all proceeds are donated to the organization and since this event is pretty well attended, the nonprofit usually receives a donation of $200-$300.
A nail technician is here to make sure your mistle"toes" are ready for the holidays @CamelotWines #3STTNEvents pic.twitter.com/gSDU4rKM4l

— Jessica Gilland (@jlg52187) December 17, 2014
So what makes these charity event ideas so successful? It's simple, really.
There's a lot going on. "For example," Janine Aquino, owner of Camelot Cellars said, "for our wine tasting fundraisers, we provide light appetizers and event live music." The Mini Spa Nights incorporate spa services for men to bring in a mix of customers and people.
Great vendor relationships. The Camelot Cellars team works really hard to establish and maintain relationships with local vendors as they plan events. "We need vendors that don't cancel last minute, so when we find vendors who are reliable and fit our criteria, we invite them every time," said Alex Anthony, and employee of Camelot Cellars.
Simple, but effective promotional efforts. In order to market their event, Camelot Cellars does do a lot of promotion through social media. They reach out to other local businesses to help with online endorsements, encourage benefiting organizations to promote to their networks, and try to list their events on at least 15 local event online calendars, like Columbus Underground and Columbus Alive. While some of these things may have a small fee for users, the payoff is well worth it.
Consistency in timing. Remember, this is a monthly event, so attendees and the community expect it to happen and they know it's coming.
Come relax in @CamelotWines massage chair! Proceeds to go to @ColonyCats - #3STTNPEvents pic.twitter.com/vU1AVAp1Fy

— Jessica Gilland (@jlg52187) December 17, 2014
While this event isn't put on directly by the nonprofit, it does illustrate the importance and the opportunity for partnering with local organizations who do have a more extensive budget for event organizations. Choose some businesses who fit your criteria for partnership and pitch the idea of ongoing events to help benefit your organization and other organizations in the community.
And remember, follow #3STTNPEvents on Twitter for more event coverage! If you're hosting an event and you want us to be there, email [email protected].