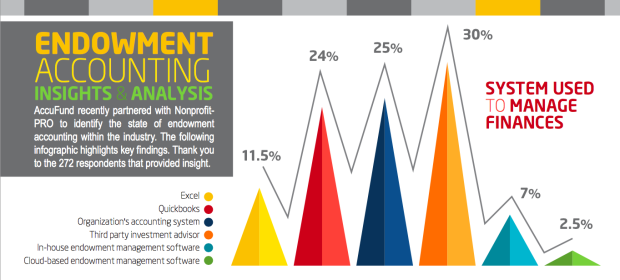 Endowment Accounting Study
Have you ever wondered what type of financial management systems are being used by endowments? Or, how frequently they are providing fund statements to donors? Our friends at AccuFund did- and the findings of the study they commissioned, conducted by NonprofitPRO, were just released.
Key Findings
According to the company's press release, the company cites these key findings of its 2015-2016 Endowment Accounting Insights & Analysis Survey
Nearly half of all respondents have not made a change in their spending policy because of the changing investment environment.
Only 40% of respondents said their existing endowment accounting software handles specific named fund exceptions to standard spending policies.
Only 32% of respondents indicated their existing endowment accounting software can handle multiple fee policies such as endowment size, historical changes, negotiated rate, etc.
I met with Peter Stam, President, AccuFund, Inc., at AICPA Not-for-Profit Industry Conference to get his take on the findings. Specifically, after many years of providing nonprofit accounting and fundraising solutions, were there any results that really surprised him?  He said he was "…quite surprised 24% of endowments were using Quickbooks. While it has a lot of good uses, it's an inappropriate vehicle to manage endowments."
Lost Opportunity for Nonprofits
Another surprise? That 17% of respondents said that they "Never" provide statement reports to donors.  Those organizations are missing out on a great marketing and communications piece. People love to be involved with successful ventures. "Telling the success of endowments is one of the best ways to attract more donations," said Stam. So it's a lost opportunity for those nonprofits to capitalize on a great story that can help them with outreach.