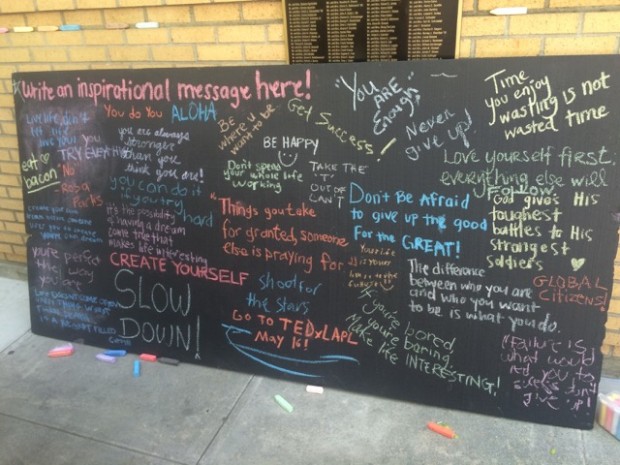 When planning an event, there are always struggles with who and what to combine for a perfect "winning" event. There is a precarious balance to finding presenters and entertainment who are both relevant and cohesive, while providing content that is varied enough to intrigue an audience. And on top of all that, you've got to consider timing: how long will the audience sit? When will their attention run out and who can motivate them to listen?
A picture perfect 80 degrees and sunny day made it tough to enter a dark auditorium for TEDxLMU. Distracted, yet eager to listen, the audience was greeted with a mixed bag of performers on topics from mental health to physical health, food chains to the progression of patents. The content was distinctly unique, but seemed to somehow orbit around a common thread of education and inspiration.
A few of the lessons that resonated with me: Music has been proven to feed the soul, expand the mind and build confidence; Never spend your present time with someone you don't see in your future; Speak your dreams into existence and make sure you encourage others to speak their dreams. When they do, support them; Creativity is amplified through group discussion and interactive education; If you have dense breast tissue get an MRI - a breast exam is insufficient in finding cancerous tissue.
The one big learning point for the organizers: saving the best for last doesn't always work. Many people were the most excited to listen to Nolan Bushnell who was named one of 50 Men Who Change America, Steve Jobs' only employer, founder of Atari, and creator of Chuck E. Cheese's Pizza-Time Theaters. Even with his name and fame, it seemed over 40% of the audience had left. And after the seven-hour day, attention spans fizzed out.
Pay attention to this when planning your own event, as it's a very common, yet often ineffective tactic. With concerts, this works well because it is a shorter time frame and music generates energy. With conferences there is no definitive answer. Remember: learning new information is wonderful, but draining.
Event planning always comes with lessons on how to make it better next time. TEDxLMU did a wonderful job taking their lesson in stride. It didn't stop them from forming a conference filled with perfected details and performers that motivated and moved the audience.