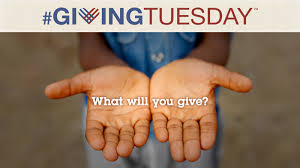 I've spent the better part of my life-and built a career -in advertising sales and marketing in the for-profit world; specifically, for business to business publishing companies.  I have always loved working with clients to help them find the right message and vehicle to deliver it to their target audience.  So, when something the magnitude of #GivingTuesday comes along, I get rather excited. This is a free opportunity for nonprofits, big and small, to benefit from the cache being built by one large marketing campaign! What a boon!
Tomorrow is the "big day" and I have to admit I'm rather concerned about the future of Giving Tuesday based on some things I've noticed.
Having witnessed a few marketing "campaigns" in my time where the advertiser set itself up for failure- the following are some considerations that can truly make or break a campaign.
Roadmaps are a must
A marketing objective is like a roadmap-if you don't know your destination, how will you know when you arrive? Or get lost?  Essentially, it's the same reason your organization has a mission statement.  
Your marketing objective should be clearly defined. Since your nonprofit would ideally be cultivating a relationship with its donors all year long with donations being the by-product, the ideal objective for GivingTuesday should be slightly different.  
It's the perfect opportunity to bring new donors into the fold.  The national awareness of Giving Tuesday will, hopefully, inspire many new donors to find causes that they relate to and can begin a relationship with.  So, if your group wants new donors (and I cannot think of any that does NOT) then consider a strategy that will, for example: "Bring new donors to the site to learn our story and get involved with our organization in a small way to begin our relationship."
Silos are for corn
It's assumed that a boost in marketing will result in a boost in donations.  While Giving Tuesday is a customizable marketing campaign-there for the taking!- it needs to be woven into an overall strategy to make it beneficial.  Your group's efforts on Facebook, Twitter, Pinterest, Instragram and- whatever else- are not silos unto themselves.  Unless each of those channels is set up to accept donations, they need to tie together with your website.  So, if you are going to insert #GivingTuesday into your Tweet—Please have a link to a page that includes some reference to #GivingTuesday!
Here's an excellent Giving Tuesday example from DC SCORES-and why:
1. Utilizing #Giving Tuesday "brand" on the home page (not just any landing page, or in the blog-but on the homepage)
Please think of your visitor! If they are made aware of Giving Tuesday from any of a number of sources, and come to your website's home page, what will they find there? Will they find an invitation to participate in the nationally promoted biggest giving day of the year?  Will they be greeted with a suggestion on how they can make an impact? Will they learn your nonprofit's story?
Or, will they arrive with Giving Tuesday on their minds (meaning they are likely in a "giving" mindset) at a disconnect?  A lost opportunity.
2. Very Clear Call to Action (CTA): Asking visitors to participate in #GivingTuesday by providing a soccer uniform
One of the biggest obstacles in getting help from anyone is simply not asking.  The second biggest obstacle? Not asking specifically for what you need/want.  The visitor is on your site, engaged in Giving Tuesday and wants to know how they can become an active new member to your organization.  What is your site telling them?
3. Tells the Story
DC SCORES' home page is not missing any opportunity to share with the new visitor what their organization does -and does with their donations.  "Help us empower DC Students"  allows for an easy donation option.  There's a slide explaining that new uniforms will go to children in need.  There is also a paragraph explaining what DC SCORES does….all "above the fold", as we used to say in the newspaper biz.  That term referred to the top half of the front page-the place that garners most exposure and either gets attention or doesn't.  Holds true for your website, by the way.
The Future of Giving Tuesday
What scares me more? That there will be nonprofits who will say that Giving Tuesday "wasn't worth it" or "didn't work" based on their experiences, resulting from poor planning. Although hardly scientific, this is what I found by just culling out all the #GivingTuesday tweets this morning in @3rdsectortoday's feed.  
only 3 of 17 organizations had any mention of GivingTuesday on their website homepage
only 1 of 3 organizations on GivingTuesday's Partner page had any reference to Giving Tuesday on their website's home page
The fine folks of the New York's 92nd Street Y and The United Nations Foundation created a Giving Tuesday website to support the campaign and help other nonprofits with communications to bolster this national movement for doing good.  On their site, you can find resources including a special hashtag for Tweeting, a logo, an online listing for all partners with links to their websites, sample templates for press releases, logos and toolkits (for incorporating into your site) and more. This is a gift!
For further reading, you might want to check out a helpful blog about how to increase your nonprofit website's traffic from npEngage.