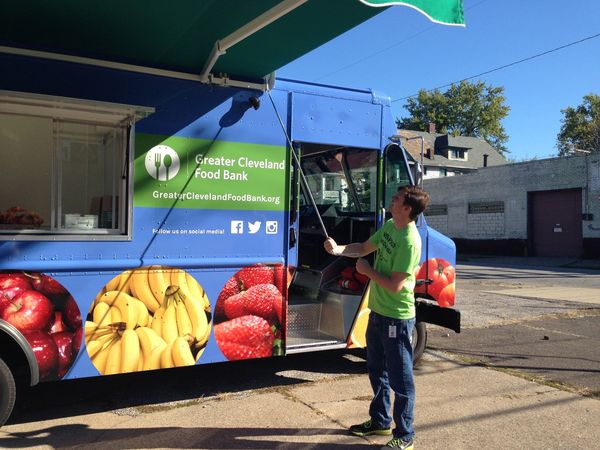 This story was originally published on Cleveland.com ; written by Mark Naymik.
ASIDE: At last month's 
NTEN's
Leading Change Summit, one of the plenaries prompted a discussion about what technology we would invent to increase impact. The general consensus was that "an increased ability to be where people in need are." Although not of the High-Tech variety, this story is a great example!
Minutes after Tristan Rader parked Cleveland's newest food truck in a vacant lot at East 145th Street and Kinsman Avenue, the blue Ford with custom decals of luscious produce and vegetables attracted a steady stream of customers.
They waited under the truck's green awning for a chance to look through its 6-foot sliding-glass window. Customers snatched up 750 pounds of food in a few hours.
The truck - which features stainless steel counters, a refrigerator and fluorescent lighting - would easily fit in among the city's other colorful food trucks that draw downtown office workers to such weekly rallies as Walnut Wednesdays and Food Truck Fridays.
But this truck isn't after the crowd that can afford $6 shrimp tacos. It's working the streets of Cleveland's "food desert," a portion of the inner city largely devoid of stores that offer fresh fruits and vegetables.
On the road less than a month, the truck doesn't do any marketing. It doesn't need to.
"People see it and come out," Rader said.
Word of mouth is good, no doubt helped by the fact that the fare is free.
Rader works for the Greater Cleveland Food Bank, which won a $50,000 grant from Feeding America, an anti-hunger charity, to lease and customize a box truck to distribute fresh produce to the poor.
In Northeast Ohio, about 50,000 people who are eligible for food assistance have not signed up.
The eye-catching truck also serves as an outreach office. As people take food, Rader queries them about whether they have applied for food stamps through what is formally known as the Supplemental Nutrition Assistance Program, or SNAP.
"The food truck starts the conversation," Rader said.
In Northeast Ohio, about 50,000 people who are eligible for food assistance have not signed up, said the Food Bank's director of advocacy, Mary O'Shea.
The Food Bank has long been distributing food in the inner city, but it's had to rely on volunteers' cars to help transport the goods. The Food Bank has used pop-up tents to create a street-corner store. The truck adds ease and visibility to its distribution efforts.
"Moving a few blocks is easy and brings in a whole different group of people," Rader said.
The morning I spent on the food truck, people of all ages came by, on foot, bike, and in beat-up cars. A mom pushing a stroller. A mechanic from a garage next door. Customers from a nearby gas station. Some people seemed to appear out of nowhere.
Several asked for fruit, particularly oranges. Citrus is a luxury, something the Food Bank has a harder time getting into the hands of the needy. Rader and volunteer Dave Brinker offered grocery bags with a mix of apples, squash, zucchini, radishes and sweet potatoes.
The squash forced one man to return.
"What are these?" he asked. "What do I do with these?"
Karen Pozna, the Food Bank's director of communications, leaned through the truck's window to offer some suggestions.
"You can cut it in half and bake it or fry them with a little butter," she said.
Pozna says the Food Bank plans to offer tips on preparation and, perhaps, even on-site demonstrations.
Every customer left happy and grateful, offering a 'thank you' or a 'God bless" as they walked away.
The food truck did more than please its customers. It made a difference in the battle against hunger.
*Is your organization doing something awesome that you'd like us to feature? Get in touch: [email protected]