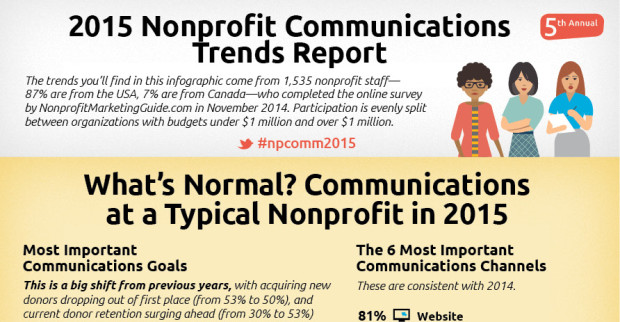 The Nonprofit Communications Trends Report has become the annual "go to" source for what's happening in the world of nonprofit communications and fundraising. 
It all starts with Nonprofit Marketing Guide's annual Trends Survey, open now for 2016 until Monday, November 30. 
See the results from the 2015 study in the infographic, below
In this year's survey, you're asked to share:
Your most important communications goals for 2016.
Your most important communications channels.
How often you will send email and direct mail in 2016.
Which social media sites you will be essential to your strategy, and which not so much.
How often you will post to your social media networks in 2016.
How much you will spend on Facebook ads.
If you expect your communications staff or budget to grow in 2016.
What situations prevent you from doing your best work.
Your level of job satisfaction.
You are also asked to share what would make your communications more successful, and what excites, and what worries you about the coming year.
Take the survey now, and then see the national results in the full report.
You'll also be able to take part in a special preview webinar reserved only for people who complete the survey! On December 16, you'll get a peek at the preliminary results and analysis. The full report will be released to public on January 5, 2016.
For more insights, you can check out last year's report: the 2015 Nonprofit Communications Trends Report 
Check out this Infographic for the results from 2015 Nonprofit Communications Trends Report