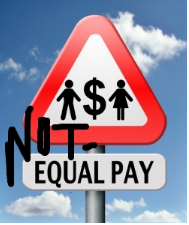 The wage gap between men and women is a major issue across all sectors, especially among nonprofits where the majority of the workforce is women. But what about the "Mom Gap", the wage gap between mothers and childless women? Working mothers make about 7 to 14% less than women without children. Even in high salary projects like Hollywood films, women in acting and directing, for example, earn less than men, as highlighted in the 2015 Academy Awards buzz.
The "Mommy Track" (decreasing hours, transitioning to other positions, or leaving the workforce temporarily) contributes to lower income. Women who drop out of the workforce temporarily in the early stages of motherhood lose years of experience and pay raise opportunities. Those who transition to part-time or leave early are viewed as less committed and less productive, which can affect their opportunity for growth and advancement, not to mention the broad discrepancies illuminated by ethnic and geographic considerations.
On the other hand, The Atlantic debunks this reasoning in The Mommy Track Myth with research that proves working mothers are as productive, if not slightly more productive, than women without children.
So, does the issue stem from discrimination or a self selection to take less lucrative positions? NPR spoke with a panel of prominent professional women, all mothers, to try and find an answer.
Dina Bakst of A Better Balance, a workplace rights organization, believes the solution to the Mommy Track is rooted in policy and workplace culture: "I think we need to focus on making supportive work-family policies a priority because those are key to keeping women on track and that will play a role in helping to narrow the wage gap. And a recent study out of Rutgers, which was commissioned by the National Partnership for Women and Families, shows that paid family leave increases wages for women and increases their attachment to the labor force."
The most important thing for working women is to be honest with themselves and their employers about what they want out of their career. The balance between work and family is different for everyone, and no one should be penalized for their decisions.
About the Author: Sarah is a self-proclaimed cat lady, chocoholic, beard enthusiast, and aspiring writer. She is currently a graduate student pursuing a Master of Professional Writing at Chatham University.
For more insight and discussion about The Mommy Track/the Mom Gap, check out:
 Wage Reality of Women in Nonprofits
The Wage Gap Between Moms, Other Working Women
The Mommy Track: The real reason women don't rise to the top of companies
What Are the Financial Costs of The Mommy Track?